Finsbury Park terror attack: Theresa May arrives at the scene – latest updates
Senior Labour MP Diane Abbott and Met commissioner Cressida Dick were among several prominent figures seen joining an interfaith meeting at Finsbury Park mosque.
Earlier Theresa May was seen at the meeting with religious leaders (see earlier).
Jeremy Corbyn was not visible at the meeting. He may have continued upstairs to join the mosque's congregation in their afternoon prayer.
Updated
Attacker not known to security services
The suspect in the attack was not known to the security services, according to security minister Ben Wallace.
"This man was not known to the authorities in the space of extremism or far-right extremism and he clearly took advantage of a simple weapon, a vehicle, to make an attack on people going about their business," Wallace told Sky News.
He added: "There are no ifs no buts, this is a terrorist attack in the same way the bomber of Manchester blew up many people only recently. This is a pure terrorist attack designed to inflict terror and fear and also hurt people in some twisted cause."
Updated
Donald Trump's daughter, Ivanka, has tweeted her "love and prayers" to the victims of the Finsbury Park attack.
She added: "We must stand united against hatred and extremism in all its ugly forms." Nothing yet from her father.
Politicians are flocking to Finsbury Park.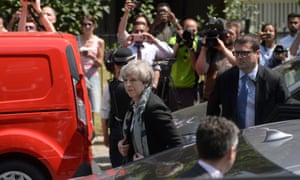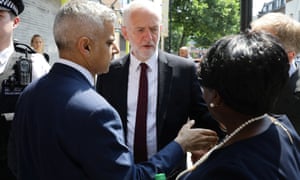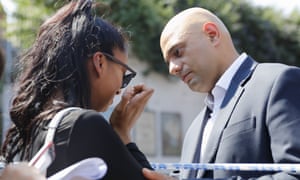 Updated
Jeremy Corbyn has just arrived at Finsbury Park mosque accompanied by Labour MP for Tottenham David Lammy. The labour leader walked past a scrum of reporters and passersby to enter by the men's entrance. He did not say anything, but a passerby was heard shouting: "I love you!" A second man shouted: "All Muslims love you."
Updated
The number of people being treated in hospital after the attack now stands at seven, down from eight this morning.
In an update NHS England said: "A total of seven patients are currently being treated in London hospitals. The three hospitals who have received patients are the Royal London, Whittington, and St Mary's. The London Ambulance Service treated two and discharged at the scene."
It does not say whether any of the wounded are in critical care. Earlier police said two people were seriously injured.
Updated
May has met religious leaders of many faiths at the Finsbury Park Mosque, including Mohammed Kozbar, chair of the mosque.
Her visit to the scene and, her willingness to talk to people affected, is notably faster than her response to the Grenfell Tower fire last week.
Updated
Here's the full text of Theresa May's Downing Street statement.
It ends:
Today's attack falls at a difficult time in the life of this city, following on from the attack on London Bridge 2 weeks ago – and of course the unimaginable tragedy of Grenfell Tower last week, on which I will chair another meeting of Ministers and officials later today.

But what we have seen throughout – whether in the heroism of the ordinary citizens who fought off the attackers at London Bridge; the unbreakable resolve of the residents in Kensington; or this morning the spirit of the community that apprehended this attacker – is that this is an extraordinary city of extraordinary people.

It is home to a multitude of communities that together make London one of the greatest cities on earth.

Diverse, welcoming, vibrant, compassionate, confident and determined never to give in to hate.

These are the values that define this city.

These are the values that define this country.

These are the values that this government will uphold.

These are the values that will prevail.
Here's our report:
There's a lot of politicians on the scene.
Theresa May arrives at the scene
Theresa May has arrived at the scene. Eve Hartley of Huff Post UK has this video of the PM's arrival.
London Ambulance has confirmed that eight people were taken to three London hospitals after being injured in the attack. Others were treated at the scene for minor injuries, it said.
The first of 60 paramedics arrived within 14 minutes of the first emergency call, according to Peter McKenna, deputy director of operations.
Mohammed Kozbar, the chairman of the nearby Finsbury Park mosque, has given a statement at the scene flanked by other religious leaders from the Islington faith forum and Labour leader Jeremy Corbyn.
Pointing out that members of different faith communities gathered at Muslim Welfare House on Saturday to remember the murdered MP Jo Cox, he said: "To honour and celebrate her affirmation that we all have more in common than we have things which differentiate us."
He added: "Less than 48 hours later the same area experienced a terrorist attack, aimed at killing Muslim returning home after their Ramadan prayers. Our thoughts and prayers are with the family of the person who died and with all those injured and traumatised by this event. An attack on one faith is an attack on all faith and communities.
Those who try to divide us and who aim to spread fear, hatred and division will not succeed … May we stand together in these challenging times."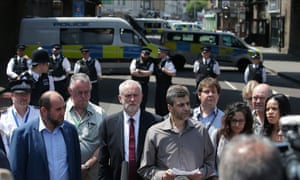 Updated
The van hire company whose vehicle was involved in the attack has issued a statement. It said:
We at Pontyclun Van Hire are shocked and saddened by the incident that took place at Finsbury Park last night. We are cooperating fully with the Metropolitan police and our thoughts are with those who have been injured in this cowardly attack.

We will not be making any further statement because of the ongoing police investigation but will continue to assist the police in any way we can.
Updated
What we know so far
Police have confirmed they are investigating a terror attack in London after a van ploughed into people near a north London mosque, leaving one person dead and injuring eight others. A 48-year-old man has been arrested on suspicion of attempted murder, and two of those hit by the van were said to be "very seriously injured".
Witnesses said the driver had shouted: "I want to kill all Muslims" before onlookers pinned him to the ground. The suspect was protected by a local imam after being pinned down by members of the Muslim community.
Theresa May has vowed that "hatred and evil" of the kind seen in the attack on a north London mosque will never succeed. May said that the attack on Muslims was "every bit as insidious and destructive to our values and our way of life" as the recent string of terror attacks apparently motivated by Islamist extremism.
The Labour leader and local MP, Jeremy Corbyn, spent much of the early morning at Muslim Welfare House, where the attack took place. He said: "I see it this is a terror on the streets … in the communities … We have to all reach out and feel their pain and their stress."
Police said it was too early to state if the man who died at the scene was killed in the attack. He was being helped when the van ploughed into pedestrians. All of the victims of the attack, including two who are in a critical condition, are from the Muslim community.
The suspected attacker, who was arrested on suspicion of attempted murder, waved to the crowd as he was led away. The van involved in the attack is marked with the livery of the hire company, which is based on an industrial estate close to the M4 12 miles west of Cardiff.
White supremacists have celebrated the attack, according to the US extremist monitoring group Site. It also said pro-Islamic State channels were using reports of the incident to incite Muslims.
Muslim leaders have reacted with shock, condemnation and calls for security at mosques to be stepped up. Many also said the backdrop of the attack was rising Islamophobia. Support also came from Christian, Jewish and Sikh leaders.
source ; the Guardian
THE VOICE TIMES